Accelerate Your Business and Professional Proficiency with Innovative Marketing and Financing Strategies A Workshop for Women to Celebrate International Women's Day Organized by WE – Women Entrepreneurs' Wing of WZCC Dear Friends, This year WE wishes to celebrate International Women's Day by giving women entrepreneurs and professionals an opportunity to interact with two experts in
[...]
Committee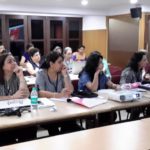 To celebrate International Women's Day, this year, Women Entrepreneurs (
WE
), the Women's Wing of the World Zarathusti Chamber of Commerce (WZCC), organized a workshop on 18th March, 2017 on the topic of "Build Grow & Scale your Business with Digital Media".
Welcoming the participants, Ms Homai Mehta, Chairperson, WZCC-WE,Bombay Chapter, commended them for being on time.She stated that this workshop was an introduction to the digital world for women professionals and entrepreneurs. She quoted Mr. SundarPichai, CEO Google who believes" Today Anyone can become an Entrepreneur, A developer or Creator, but it was important they had the right Tools ad Skills to DIGITISE." Hence, WE had taken the initiative to organize the program on Digital Media. She went on to introduce the VIPs of WZCC on the dias and the core committee members of WE. She thanked Capt. Master for the sponsorship of the advertisements in Parsi Times and Jame, which drew in new participants for the program. She urged the participants to become life members as that would be a vote of confidence for WE and would augment the corpus of WZCC-WE.
Mr. AdiSiganporia,Bombay Chapter Chair and Corporate Secretary, International Board WZCC said WZCC was doing a great job since the last 16 years. Taking up from where Homai left off on punctuality, he recalled that JRD Tata had once remarked, "The only drawback of being on time is that no one's around to appreciate it."
Behroze Daruwala,Chairperson, WZCC-WE, International Board, highlighted the advantages of being a member of WZCC-WE. If a lady becomes a member she automatically has access to the global network of WZCC consisting of 30 Chapters worldwide. This expands the circle of networking of members and facilitates tapping into the resources of other entrepreneurs.
Capt.Percy Master, President All-India, WZCC spoke about the multi-faceted personality of women who not only work hard, out in the world as well as at home, and yet are always smiling and cheerful. He quoted, "Educate a girl child and she educates the world."
He talked about the global AGMs of WZCC, particularly the last one held in Hong Kong, which was a great success. The next one was scheduled for Bangalore, a fast growing Chapter, which featured interesting Zarathusti entrepreneurs.
Dolly Dhamodiwala, Committee Memberand Immediate Past Chairperson, WE, introduced the trainer, Ms Mandeep Kaur, Founder of Quarter Pants, an on-line marketing consultancy firm. Mandeep is a marketing professional with over 9 years of experience. Her areas of focus are: Strategy Consulting, Online Marketing (Website, SEM, Social Media, Newsletters, Influencer Marketing), Business Development and Training. Her clients have been Sorrento Healthcare, Villgro, HelpyourNGO, STAR Network, Reality Tours, Chic Therapy, Eat Drink Design, Buildmyevent, Matchmecupid, Breakup Helpline.
As we all know, Digital Marketing is a cost effective medium to promote your brand and widen your reach. This workshop proved to be invaluable for the 22 women participants. It was an eclectic group with women from diverse businesses like bakery, art, education, training, consultancy, manufacturing, interior designing, eco solutions, social media and garments. All the participants gave excellent feedback on the Workshop and the trainer's personalized approach. 
The topics covered were:
Create a digital marketing strategy for your product or service

Promote your brand (B2B or B2C) on social media

Effective paid advertising (Facebook ads & Google ads) 

How to find influencers and reach out to them

Setting up newsletter and using it effectively
The audience learnt why it was important for them to have a digital marketing strategy for their brand.
Worksheets and assignments were given to make the participants refocus on their business objectives, their customers and competitors and the differentiating factors of their business before devising a suitable digital media strategy for them.   Later actual hands on training was given to set up accounts by the attendees for Google Adwords and Facebook Ads. Guidelines for content creation were provided for both B2B and B2C businesses. Most importantly, personalized attention was given to solve problems faced by each participant and suggestions were given relating to the best media mix for each.
The workshop ended with a Vote of thanks from Veera Mundroina, Committee Member, WE
Below are a few pics from the event